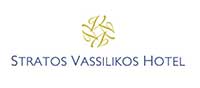 Conference Facilities:
No. of Halls:
6,
Largest Hall Capacity:
110 Prs,
Total Capacity:
475 Prs
Address:
114 Michalakopoulou str., 115 27 Athens, Greece
T:
210 7706611
F:
210 7708137
E:
banquet@airotel.gr
Website:
https://www.airotel.gr/el/
CATEGORY: 4 *
HOTEL IS OPEN: All year round.
The Stratos Vassilikos hotel, with its simplicity and high aesthetics creates a next generation postmodern, innovative scene that caters for a wide range of events, meeting and conferences. Our tailor-made packages are all the more enhanced by our modern, fresh and revitalizing meeting spaces equipped with comfortable
couches and working desks stations. Special accommodation rates are provided with a selection of bedroom
types, from Standard and Superior to Junior and Master Suites. Business & events tailor-made menus to suit your meetings requirements. Onsite restaurant with local & Mediterranean cuisine buffet or lunch served in your meeting room. Free Wi-Fi available. Complimentary onsite facilities: Fitness club with Sauna, Hamam,
Jacuzzi and hair salon.
BUSINESS IN-ROOM FACILITIES: Douwe Egberts Coffee Machine & filter water, Chiller cabinet refreshments centre, Candy bar (included as standard package), Flip charts, papers, pens, stationary kit, Audiovisual equipment: projector, screen, amplifier, speakers (free of charge) Free WI-Fi .
GROUND FLOOR: Main Lounge Lobby: Reception, Lobby Lounge, Restaurant and Cafe. Ideal for various types of events. Capacity: 40 standing The Restaurant: For catering events, presentations, product launches or speeches. Capacity: 110 seated. Total Area: 150 m2 The Cafe: Suited for breakfast, snacks, lunch, cocktails and dinner Capacity: 20 seated (+40 when combined with the main lobby).
MEZZANINE FLOOR: Meeting rooms Lounge Area & Playroom, Filled with natural daylight, the mezzanine
area is perfect for meetings, seminars, workshops, business forums, press conferences and speeches. These 4 separate meeting halls all have access to the co-working foyer where you can find snooker and foosball! The work areas are equipped with power sockets, USB ports and Internet connection. Largest room capacity: 110 seated (lecture style layout) – Total Area: 122 m2
ROOF TERRACE: Located on the 6th floor, our rooftop terrace with the wonderful view of the city of Athens, is the ideal location for open-air events, breakfast, lunch, cocktails and dinners. Total Area: 125 m2, 40 seated -70 standing
PENTHOUSE SUITE: Located on the 5th floor, the penthouse is ideal for private *VIP meetings. With vast verandas overlooking the Lycabettus hill, it very much feels like an apartment. 6 to 8 executives for a meeting or private dining event. (In a boardroom style layout). *executive package options available upon request. Plug & Play colour TV, Free Internet connection. Flip charts, papers, pens, stationary kit, and mineral water. Buffet in our restaurant or a working lunch served to your meeting room.
Operation Notification: SV 1028454