Conference Facilities:
No. of Halls:
10,
Largest Hall Capacity:
600prs,
Total Capacity:
1715prs
Address:
Κifisias 43, Αthens, 115 23, Attica
T:
(+30) 210 6989000
F:
(+30) 210 6924900
E:
president@president.gr
Website:
https://president.gr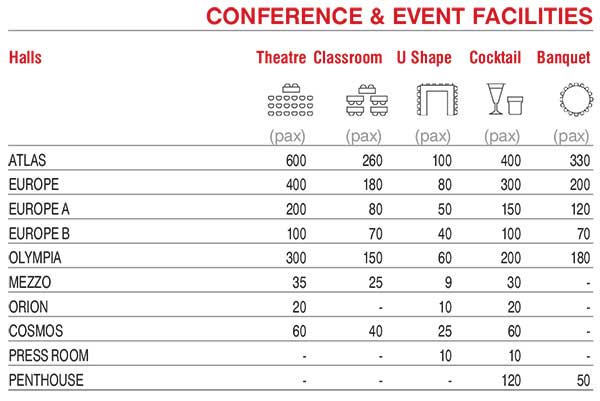 CATEGORY: 4 stars.
LOCATION: President Hotel is conveniently located at the boundaries of city's center, offering great access to Athens historical landmarks. Panormou Metro Station is just 700 meters away from our hotel, while Ampelokipi Metro Station is only 750 meters away. Both stations provide easy access to Syntagma Square: 4
and 3 stops away respectively. The stations also offer direct access to the airport, situated 27 kilometers away from our hotel, rendering it accessible either by car, bus or metro.
HOTEL IS OPEN: All year round.
Featuring a warm and family-friendly atmosphere for a restful stay, all rooms showcase an astonishing city view. Enjoy a refreshing drink at our relaxing lounge areas or taste modern culinary delicacies in our restaurants. Discover our signature cocktails at Penthouse 21 -situated on the 21st floor next to the pool
area- complemented with a local treat, while gazing at the mesmerizing 360o view. Known for its business-friendly environment and its tailor-made services, President Hotel curates all sorts of events. The contemporary conference rooms accommodate successfully your corporate events with a stylish edge.